Special Events | Shambhalla Institute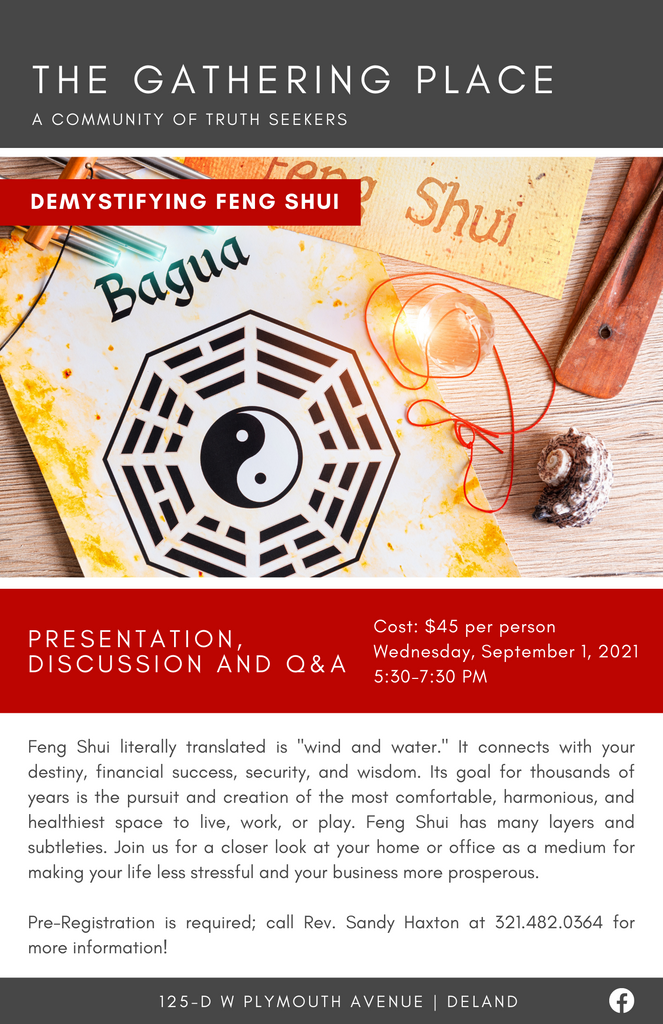 Special Events
Florida Special Series of 7 Workshops by Melinda Joy Miller 
Demystifying Feng Shui
Date:  Sept 1, 2021 (Wed)
Time: 5:30-7:30PM
Where: The Gathering Place: 125 D  West Plymouth Avenue, Deland, Florida

Feng Shui literally translated is 'wind and water.' It connects with your destiny, financial success, security, and wisdom. Its goal for thousands of years is the pursuit and creation of the most comfortable, harmonious, and healthiest space to live, work, or play.  Feng Shui has many layers and subtleties. Join us for a closer look at your home or office as a medium for making your life less stressful and your business more prosperous.  Fee $45 –  Pre-Registration is required: Call Rev. Sandy Haxton at 321.482.0364
Feng Shui for the Garden
Date:  Oct 6, 2021 (Wed)
Time: 5:30-7:30PM
Where: The Gathering Place: 125 D  West Plymouth Avenue, Deland, Florida
We will explore the basic theories of Shambhalla Feng Shui to have a clearer understanding how to apply it to sustainable garden design. We will cover feng shui tips to personalize a garden that reflects your goals or what you want to have happen in your life. Learn the secret to create edible, container gardens for healthy cooking, beauty recipes, or spiritual growth.   Fee $45 –  Pre-Registration is required: Call Rev. Sandy Haxton at 321.482.0364
Feng Shui for your Business
Date:  Nov 3, 2021 (Wed)
Time: 5:30-7:30PM
Where: The Gathering Place: 125 D  West Plymouth Avenue, Deland, Florida

Explore Shambhalla Feng Shui for business success in a home office or desk at work. How to develop any type of business with little investment, but strong business advantage. Learn how color can be used as a valuable tool to enhance business prosperity. Melinda Joy will introduce the secret system of Five-Element Creative Color Cycle and show how to use it as a guide for the well-being of your business. Fee $45 –  Pre-Registration is required: Call Rev. Sandy Haxton at 321.482.0364
Feng Shui for your Home
Date:  Dec 1, 2021 (Wed)
Time: 5:30-7:30PM
Where: The Gathering Place: 125 D  West Plymouth Avenue, Deland, Florida
Learn how to apply the secrets of Shambhalla Feng Shui wisdom for health, wealth, and happiness. Explore how to bring harmony, comfort, calm, and balance to the home, your life, and to your family. Feng shui teaches that the general health of you and your family is a sign of how auspicious the feng shui is in your home. Fee $45 –  Pre-Registration is required: Call Rev. Sandy Haxton at 321.482.0364
Dowsing 101
Date:  Jan 5, 2022 (Wed)
Time: 5:30-7:30PM
Where: The Gathering Place: 125 D  West Plymouth Avenue, Deland, Florida
Dowsing is simply asking yourself a question and getting the answer from your mind. Join us for a fun class to learn how to get answers through the use of dowsing tools. With each tool, there will be a demonstration and time for everyone to try them out. All dowsing tools will be provided for use in class, as well as, a limited number of tools will be available for purchase. Fee $45 Pre-Registration is required: Call Rev. Sandy Haxton at 321.482.0364
A Kahuna – Indigenous Hawaiian Shamanism
Date:  Jan 5, 2022 (Wed)
Time: 5:30-7:30PM
Where: The Gathering Place: 125 D  West Plymouth Avenue, Deland, Florida
Freedom, Peace of Mind are still human goals. Both continue to allude, be hidden, we try to buy, and forever seek. We will use with together an ancient process that provides a step-by-step approach to experience peace, balance, and a new meaning of life. This has been used for thousands of years to correct mistakes, forgive, transform negative thoughts, and release painful, uncomfortable feelings. We will use this ancient wisdom to connect to self-identity, divinity Within, and Oneness with the Source. Fee 45 Pre-Registration is required: Call Rev. Sandy Haxton at 321.482.0364
Traditional Teachings of the Ancient Seneca People
Date:  Jan 5, 2022 (Wed)
Time: 5:30-7:30PM
Where: The Gathering Place: 125 D  West Plymouth Avenue, Deland, Florida
The Medicine Wheel of Peace is a thousands-year-old-tradition for a modern journey of self-discovery, inner wisdom, spiritual growth, and connection to the natural powers of the earth. People who walk this path of Peace feel an inner calm, find solutions to problems, and gain a deeper understanding of their purpose. Melinda Joy, a Keeper of the Medicine Wheel of Peace tradition, will cover basic principles involved in building Peace in relationships, and the art of peaceful communication.
Special Events | Personalize A Workshop For You, Your Friends or Team
We offer customized workshops for venues, speaking engagements, individuals, groups or corporate teams. Shambhalla special events are interactive and always inspirational, sparking creativity tomotivate personal growth and teach new tools for enlightenment. Each workshop offers new approaches to create the life and environment you want.
Special events are privately offered for groups of 3 or more. Select one of the subjects below or have us combine several subjects to personalize your event for the interest of your group.
Contact us if you would like to host a book signing, private class, workshop or lecture.
Instructors: Melinda Joy Miller or Kim Colwell
Feng Shui Design Workshops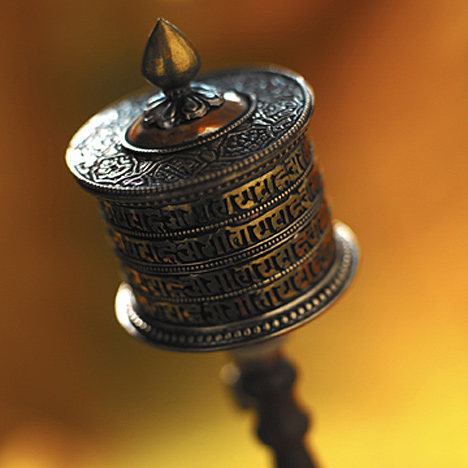 Feng Shui for Residential Certification Program
This class is offered privately for single students or groups of ten or less once a month at a Private Home in the Los Angeles Area  |  Tuition: $1395/small group class or $1,840 for private individual class 
Learn tips to transform your environment to be more beautiful, healthy, nurturing and inspiring, providing a foundation for life-changing results. Enjoy a new conscious awareness of your relationship to space while creating a deeper refection of yourself. Our Feng Shui workshops give you a new ways to set up your home, office or retail space to be more harmonious, warm, and inviting.
A $300 non-refundable deposit is required with balance due the first day of class.
REGISTER NOW by email or tel 352.638.2617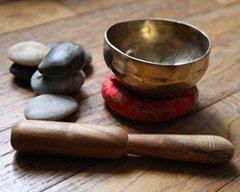 House Blessing Ceremony Workshop
Learn daily ways to enliven the energy in your space. These techniques are perfect for spaces that feel stagnate and people who often feel overwhelmed, unfocused or emotionally depleted. These new tools will last a life time.
[email protected] or 323.309.2945
Get Our Book!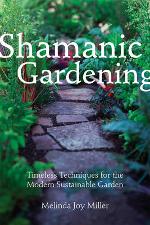 This book brings sustainable ancient, indigenous, and traditional gardening techniques, history, and mythology to modern permaculture. No other gardening book better illustrates the vast cultural history and modern practicality, sustainability, and permaculture.
SHAMANIC GARDENING contains a history of sustainable gardening, including techniques used by Cleopatra, the Japanese, the Pueblo Indians, George Washington, Thomas Jefferson, and many others.
Learn to design an edible, elegant, sustainable landscape, grow healing herbs, extract flower essences, grow aphrodisiacs and plant for nutrition and beauty.
Buy It Now!
$19.95 +
FREE SHIPPING

Feng shui, Shamanic Gardening, Spiritual Growth and Interior Design consultations are available to you.