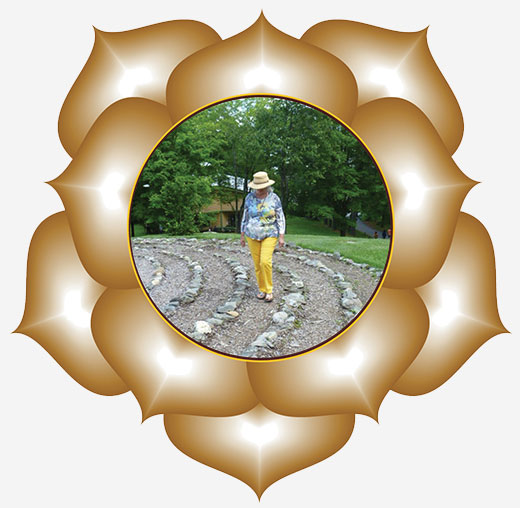 Labyrinth Class

A shaman's tool, learn how 

to use the Classical 7-Path Indigenous Labyrinth
Plan to join us for this fascinating class teaching how to draw, design, use & use a Classical 7-Path Indigenous Labyrinth. Used by ancient cultures 3500 years ago, it's still relevant today to calm, clear the mind, to gain new perspective & make creative solutions to problems. Its classical design has been found on ancient Cretan seals & coins, Roman mosaics, Babylonian masks, & Native petroglyphs in caves, cliffs, & rocks marking spiritual spaces.
The Classical 7-Path Indigenous Labyrinth
Melinda Joy has been teaching and installing this type of labyrinth for over 20 years. She begins her day with a personal walk in her labyrinth. Once a labyrinth is installed, the land becomes charged and balanced in very unique ways. It is a powerful medicine tool that makes deep connections to your Within, your Vibral Core of intuitive wisdom.

Melinda Joy designed and installed the labyrinth on the top left. The middle labyrinth photo was taken at the end of the class after the students witnessed an installation. The labyrinth to the right is from the Omega Institute during a class that Melinda Joy was teaching there.
You will learn:
An easy, step-by-step method of design, drawing, & installing a personalized Classical 7-Path Indigenous Labyrinth.
How to use the labyrinth to achieve clarity of thought.
How to use the labyrinth to get solutions to difficult situations.
Ways the land responds to the installation of any size labyrinth.
How to build community & enhance your relationships.
Symbology  of  the classic 7-path labyrinth
How to chose the best location for a labyrinth
How to include the Medicine Wheel of Peace in the design.
Blessing Ceremony for the labyrinth.
Fees:
1 Day: $135
2 Day:$225
Testimonial
"Thank you for doing the Labyrinth class, it was such a spiritual gift and it keeps on giving and giving."
— Annie Retamel

Feng shui, Shamanic Gardening, Spiritual Growth and Interior Design consultations are available to you.