COMMUNITY SHAMBHALLA
Join our feng shui, design, shamanic, healing and gardening community to learn how this innovative approach can impact your life and space today with tips, special offers and inspiration. Through community we can all come together as one.
Visit Shambhalla on Social Media
Get Our Book!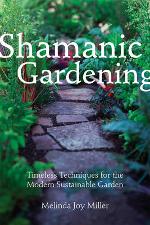 This book brings sustainable ancient, indigenous, and traditional gardening techniques, history, and mythology to modern permaculture. No other gardening book better illustrates the vast cultural history and modern practicality, sustainability, and permaculture.
SHAMANIC GARDENING contains a history of sustainable gardening, including techniques used by Cleopatra, the Japanese, the Pueblo Indians, George Washington, Thomas Jefferson, and many others.
Learn to design an edible, elegant, sustainable landscape, grow healing herbs, extract flower essences, grow aphrodisiacs and plant for nutrition and beauty.
Buy It Now!
$19.95 + $5.00
shipping
Kim Colwell (Partner) on Instagram

Feng shui, Shamanic Gardening, Spiritual Growth and Interior Design consultations are available to you.