Virtual Feng Shui
Virtual feng shui clients can enjoy our specialized feng shui consultations worldwide with a virtual feng shui consultation and a personalized feng shui chart. By using photographs, a set of plans or a hand drawn map we can assess the feng shui and offer strategic advisement to set up your space to support your relationship, career, health and other life-style goals. Additionally we will give you a personalized color plan for you as an individual, couple, family or corporate team.
How We Are Unique
Kim and her mother have pioneered a new approach to transforming space by blending feng shui with psychological, interior design and Native American principles. By fusing these four disciplines into a single powerful system, they can revolutionize the way your home or business functions, uncover the hidden blocks to your growth and success and unlock your full potential to empower your life.
Their holistic approach to feng shui consultations leads to the long debated question, "Is it genetics or environment that sets the stage of destiny?" There is a psychological relationship between you and the placement of your furniture and art that influences your belief system. What you see or feel from the design of your space has an effect on your mind, emotions and quality of your life.
We offer a more comprehensive experience to her clients with this specialized approach. We begin by assessing how the location, setting, and structural features impact the use, flow, Qi (energy), balance and feel of a space. This information is used to redirect and optimize the vital aspects of Qi (energy) within the home or business.
How It Works
We will send you detailed instructions of what will need to begin. This will be an easy list which will include photographs of your home, garden, office, retail space or building. Photographs can be simply from your phone or send us a link to a real estate site. We will need one or two photos of each room (make it a long shot so we can see as much of the room as possible). Additionally we will need either a set of plans or a hand drawn map with indications of where the North, South, East and West are.
What Do You Get
After an initial 30-45 min phone consultation with you to go over what your life, personal and career goals are along with any particular issues or questions you may have for the space. We will then do an analysis on your space and what you have shared with us about your life and specific goals and send you a printable, personalized, color coded bagua map chart which will include the following:
Indications of where your bagua areas (i.e. your wealth, relationship and health areas).
Indications of where you have blocks of energy in your space with detailed instructions of how to resolve this.
List of colors or types of objects to place in specific areas to support your personal and career goals.
Indications where key areas are in your space to pay special attention with detailed instructions of what to change or implement in order to create a better flow of energy and overall feel to the space.
This map will be easy to understand and specific to your personal goals for your life and space with a list of colors that are good for you or each member of your family or staff based on our alalysis of your shamanic astrology and feng shui.
There will be a 1 1/2 hour phone consultation to review the chart together and go over any questions. This is a highly personalized service that goes into great detail for your space.
Fees
$359 flat fee – up to 1,500 sq ft spaces*
$559 flat rate – 1,500 – 2,500 sq ft spaces*
$759 flat rate – 2,500 – 3,500 sq ft spaces*
$950-$3,500 for larger spaces. Larger spaces including corporate environments and estates will be bid on a case by case basis depending on how much time is required.
*If more time is requested, an hourly fee of $185 will be added to the flat fee. This fee will only go into effect after the client has reached 2 1/2 hours of phone consultation. The analysis will be included in the flat fee with no additional charge.

E Design For Home, Office, Retail
Our E Design service is a more economical, quick and easy way to enjoy our signature design services anywhere in the world without committing to a full service interior design project. Revitalize your style quota while enjoying that "feel-good" ambiance that we are known for.
How It Works
First, Kim will interview you personally to delve into your specific needs, sensibility and style so she can customize a look and plan that is specific to you. Next, after careful review of your photos and project details, Kim will prepare a list of creative ideas, floor plan and shopping links for you to review. Once you let her know which items you approve, she will create mood boards so you can see how the conceptual ideas will look together. Then, you can run with all the ideas on your own or have Kim make the purchases for you and enjoy special discounts. Either way, she will be to offer solutions and support through the final stages of the project. Some clients choose to go through the entire process online and some combine E Design with our Interior Stylist service. If you are outside Los Angeles or in Vancouver BC, Kim can come to you for one or more days to start the project off, make the finishing touches or both. When combined you get the savings of using Kim mostly online and just have her come to you as you need her.
What You Get
A shopping list of products
A floor plan
Mood boards or renderings
Tons of creative ideas
Support and guidance at every stage
Added Optional Perks
We draw from a unique set of design strategies to create a distinctly personalized approach. Whether you would like us to set up the space to harmonize your relationship by coming up with a design that captures both your varying sensibilities, create a restful sanctuary or design an artful space that inspires productivity so you can love the space you work in — we are well experienced in creating spaces that have the underlying intention to positively impact your mind, mood and quality of life.
What We Need
Kim will need 4 photographs (long shots please!) of each room you would like to work on. A list with dimension and photographs of each piece of furniture or decor you would like to keep in the room and work around (or, just indicate a list of what you are open to changing if that is a smaller list). Either way we will need dimension of each room (including the ceiling height) as well as each piece of furniture or decorative items like rugs, etc that is staying in the room.
Fees*
*If you only want help with one or just a few items from the list below, we can personalize a specific plan for you and give you a bid that makes sense for only what you would like us to do.
$249 – 2 hr initial consultation
This consultation may be all you need to jump start your project as you will get a ton of ideas, answers to any design questions, resources, immediate shopping and visual references at your request.
If you would like Kim to develop a unique (non generic) design for you, this consultation may be useful for her to delve into your sensibility and specific needs to give her the info she needs to create an artistic look that is catered more personally to you.
$199 – Digital Inviting Floorplan Per Room
We will create a warm and inviting floor plan that considers feng shui. This may include all the great furniture you already own or offer specific dimension to make shopping easier for new items.
$50-$1,299 Personalized Shopping
We have incredible resources from around the globe as well as special artisans throughout the US. Because we work in high and low budgets and in any style, we can easily find unique one of a kind pieces or know all of the stores we all love and trust to get find you the perfect curated collection within your budget. We can even save you an average of 10% off all goods purchased through us to maximize your savings on the overall project.
$69 Per Mood Board
Each mood board will be artistically curated to show you how the approved items from your shopping list will work well together.
$359 Per Rendering
Renderings are available when you need to see how the ideas and approved shopped for items will look in your existing home with your existing goods.
After you receive the above, we will give you a detailed plan of what to do with all of it if you would like to run with this information on your own or we can handle every last detail for your project. Either way, we will be here to guide you through the project and support you along the way as you need us.
Our Rendering Examples
This room is from one of our projects. We offered our client two different looks to the room including a new color scheme, materials and newly shopped for items with our clients existing art collection. Our client had the approval from the city to open up the left wall by 8 feet. Our rendering shows how that extension will look.
BEFORE SHOT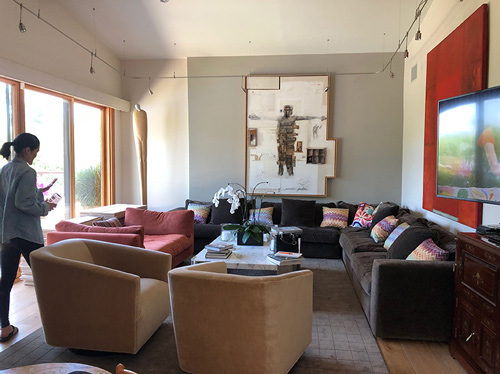 Our Renderings – Two Options With Subtle Changes
They Show Our Clients Request To Extend The Living Room By 8 Ft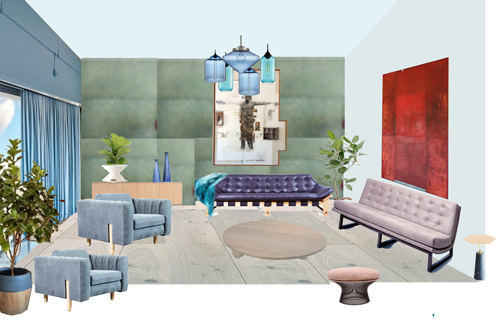 Feng shui, Shamanic Gardening, Spiritual Growth and Interior Design consultations are available to you.